GellyBall
Reservations Can Be Made Online
Walk-Ins are also Available!
$15 for one hour of play along with a grenade of ammo
Similar to paintball but without the sting! Gellyball is the revolutionary, lower-impact, shooting game for all ages 5 and up, even adults can play! Our commercial-grade, battery-powered blasters launch dehydrated gel orbs at other players in a variety of game scenarios.
Gellyball ammo is 90% water, biodegradable and non-toxic containing no paint or stain. Gellyball is the perfect experience for nearly any event and age!
Each GellyBall Blaster holds 750 shots without reloading. GellyBall is fun and safe for ages 5+, but an adult is required for anyone 18 and under.
All participants (or their parents, if a minor) must sign a waiver. Closed-toed shoes are required for all participants.
We do not allow switching of players. The price paid for the individual is only for that individual. If you run out of ammo and are no longer able to play you have the option of going inside and paying for more ammo or ending your game. We will not allow players to remain on the field without any ammo.
Games Begin at the top of each hour!
Games start 12 pm to 1 PM, then 1 pm to 2 pm, etc
Last Game at 5 on weekends, last game at 4 on weekdays
Limited to 10 players
large groups should make reservations
Click Here to Make Your
Gellyball reservation!
Walk-Ins are also available!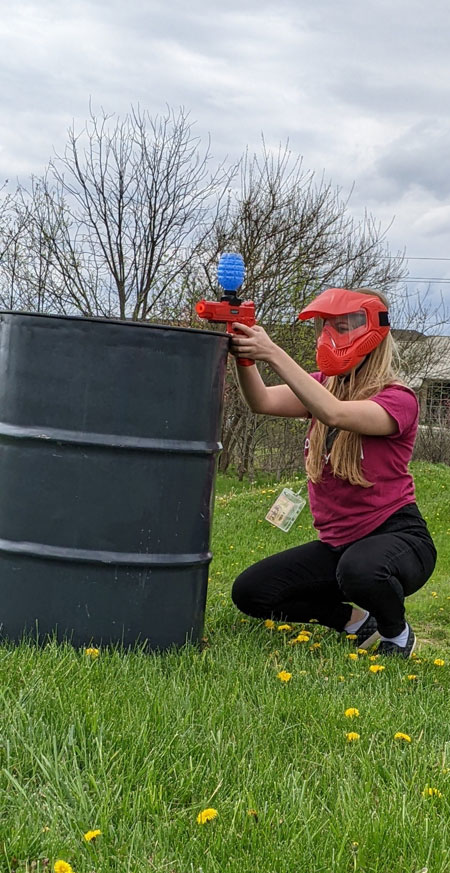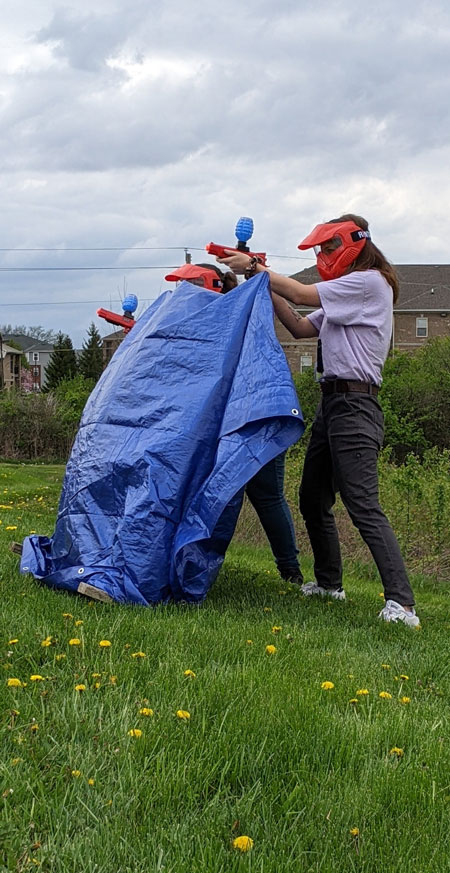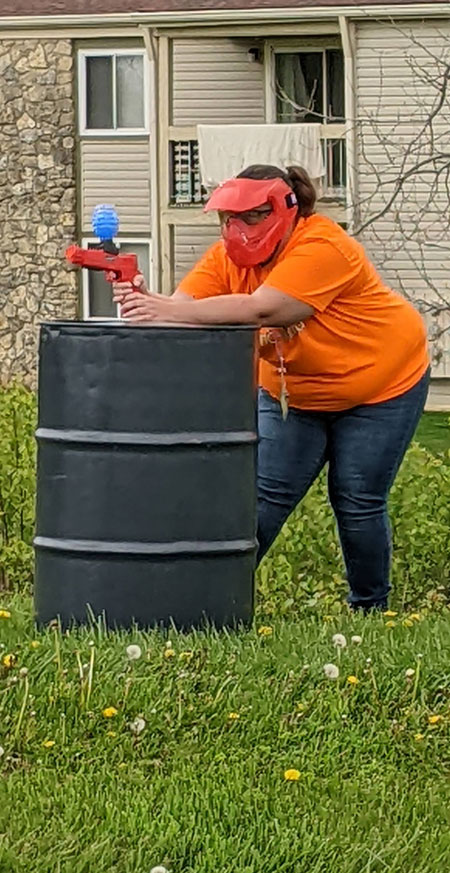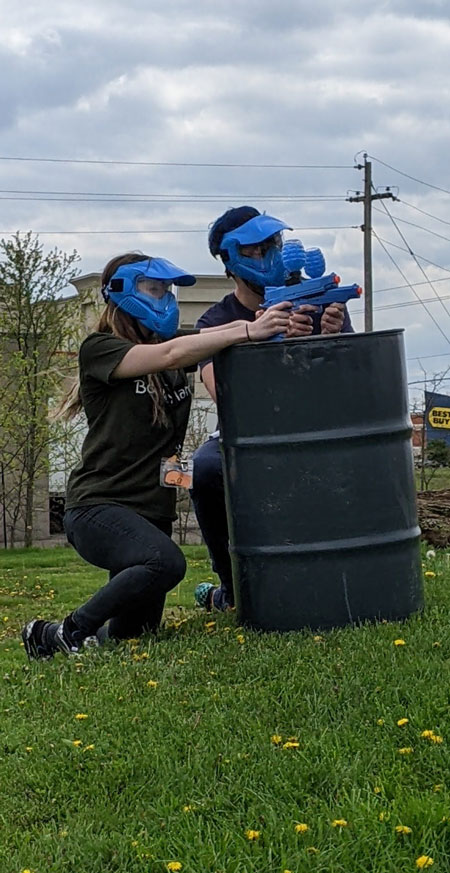 GellyBall Rules
Players are NOT permitted to enter the field without referee present and may only do so through approved entrances.
Personal masks will not be allowed.
Masks must be worn at all times in playing areas. Anyone breaking the mask rule gets one warning / and must sit a game. A second violation and you can no longer play.
At all times the Gellyball blasters must be held securely – do not swing them around as they might hit themselves or another player.
Underneath the grip, you will find the on/off switch. The switch slides back and forth between 1 and 0. 0 is off and 1 is on. Always treat the blaster like it is on.  Keep it pointed at the ground and your finger off the trigger except when you are playing.
If you get hit you must call yourself out, you will do this by putting both hands in the air, and yelling "I'm Out" and keep your hands in the air until you are off the field.
The balls are not reusable.  Please do not pick them up off the field and reuse them because they will jam up your gun.
Try to aim between the shoulders and waists of your opponents, avoid aiming for any private areas.
If you see someone with both hands in the air, do not try to hit them.
No sliding, diving or barrel rolls. While you may think it looks cool, it gets people hurt and breaks equipment.
Guns are ready to fire when handed out. No adjusting, taking apart, pushing buttons or adjusting stocks.
No shooting before or after the game. Shooting is only allowed during game play.
Referees are THE Authority on the field. They are here for your safety and enjoyment.
BEFORE entering the field, Safety Masks MUST be on & stay on until off field.
Abusive language will NOT be tolerated! Please refrain from swearing or name calling.
NO Physical Contact. Period!
DO NOT climb over, on top of or under any bunker/obstacle.
Only authorized personnel may fill the guns with ammo.
NO Alcohol.
NO Drugs, NO Exceptions.
When the game is over or if your referee says stop firing, you must turn your blaster off and stop shooting your blaster.
Hold your gun down by your side with one hand, and use the other hand to hold the handrails when going up or downstairs.
Referees' calls are final.
Talking back to referees will not be tolerated.
Do not shoot the referees.
If a referee is in your line of fire, ask them to move.
Do not use referees for cover.
No discharging Gellyball guns outside the designated shooting areas.
No shooting at people not wearing protective equipment.
No knives or other weapons
No drinks or food within playing area
Exit the field as quickly and quietly as possible.
No refunds
You are responsible for your gun. Do not hand your gun off to anyone else except a referee if necessary.
If you arrive late your game will still end at the top of the hour. NO EXCEPTIONS!
No shooting animals of any kind
No player swapping