Bouncyland
Now Open!!
Bounce Houses • Arcade • Concessions
Birthday Party Hosting
No reservations needed
Open Thursday & Friday 2 - 7
Saturday & Sunday 12 - 7
Closed Monday - Wednesday
Party Bookings Now Available!
We also accept private party bookings for Monday through Wednesday for schools, daycares, churches, etc.
Contact us for more info!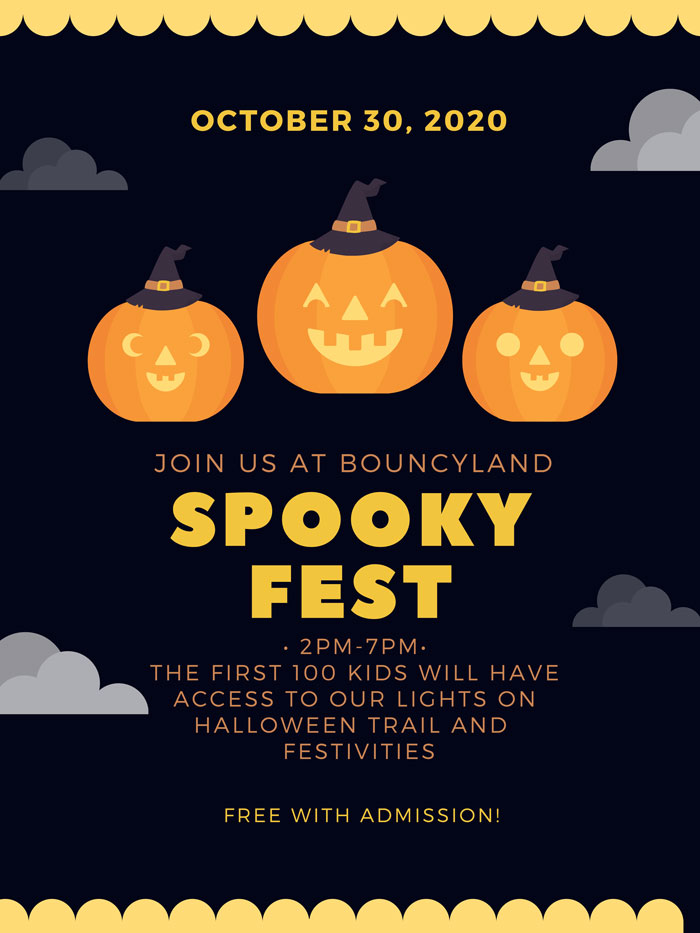 Bouncyland is having Spooky Fest October 30th from 2 - 7! A lights-on Halloween trail for children 0 - 12 with premade bags of candy, toys given to the kids, and a pumpkin at the end with stickers to decorate.
Spooky Fest is included free Oct 30 with our $12 bounce house admission then stay and use the bounce houses! Only for the first 100 kids who visit. Anyone not paying admission will not be permitted in Spooky Fest. Parents are free and can walk with their children.
The Toddler Zone will be unavailable Thursday & Friday as this is where Spooky Fest will be.
RSVP to the Facebook event!
The health and well-being of guests and employees are top priority at Bouncyland! The following are guidelines for parents and staff during our slow open process.
We will effectively enforce the increase in frequency, scope and levels of cleaning. The touch surfaces in the facility will be cleaned with disinfectant multiple times a day. The inflatables will be cleaned with a disinfectant effective against Coronavirus, Salmonella, HPV, Norovirus, SARS, HIV, Athlete's foot and E-coli.
Hand sanitizer stations are available throughout our facility.
Masks are encouraged but not mandatory for patrons.
Please take responsibility to social distance yourself from others within the facility. Remain 6 feet apart from other guests and do not gather in groups.
Please take responsibility for your own health and the community. We ask that you refrain from visiting our facility if you have a fever of 100.4 degrees F, have any symptoms of Covid 19 ( cough, sore throat, loss of taste or smell, and difficulty breathing) or has been in contact with anyone who has tested positive for Covid 19 within the last 14 days
We will require any members of our team who feel sick stay home.
Our employees are required to wear masks during each jump session.
Thank you for supporting our
locally owned small business.
Have a BOUNCY day!!!!
Party Info & Online Booking Now Available!
Click here to read about our party packages!